Last Chance to see JST exhibit!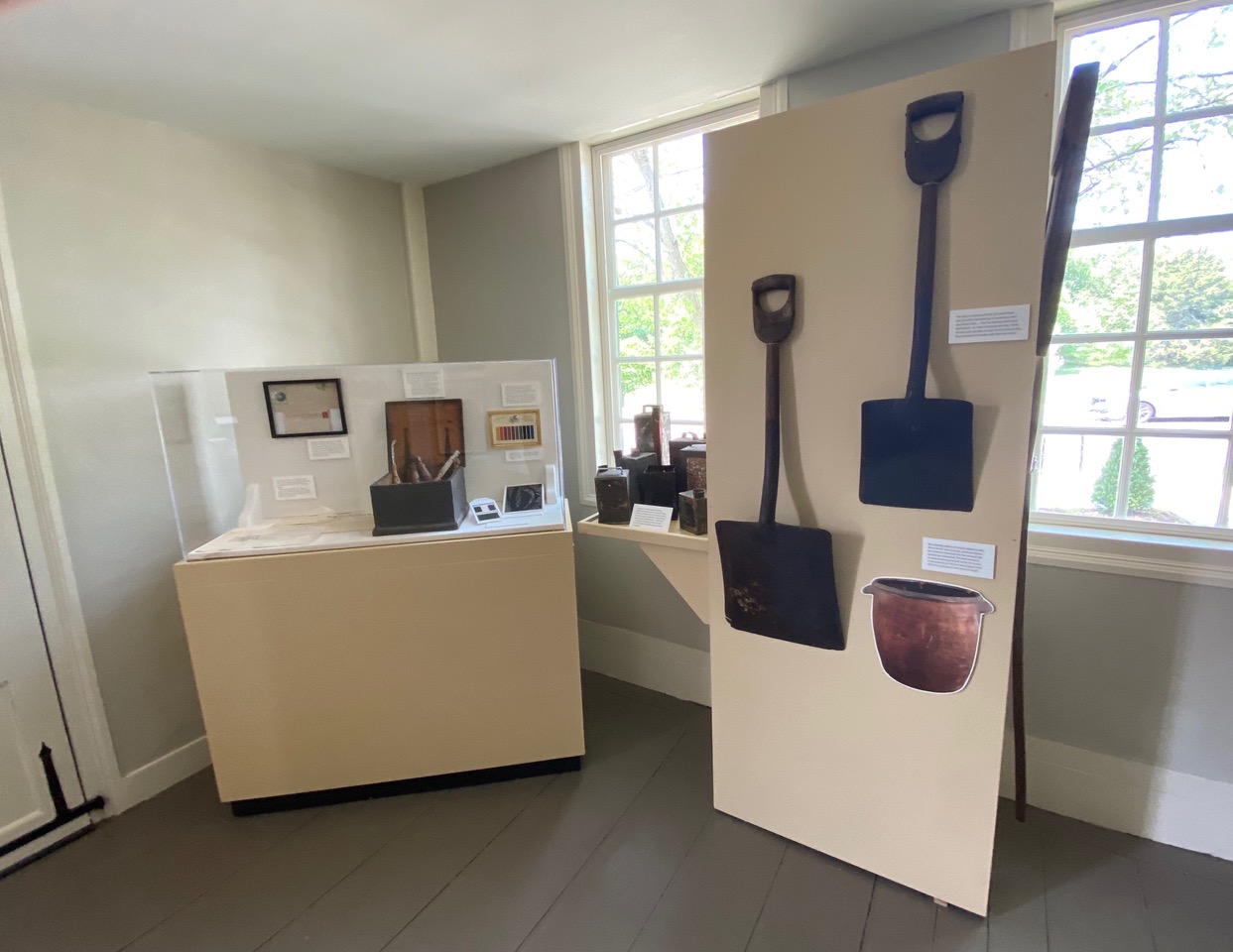 "History Under One Roof: The Evolution of the Josiah Smith Tavern" will be open two more times this fall:
Saturday, October 14, Community Open House on Pumpkin Festival Day, 11 to 2.
Sunday, November 5, Community Open House, 11 to 2.
The exhibit will be closing and the historical society will be moving its reading room and office into the space. For the last four years, the WHS collection has been stored at St. Julia Church in the basement of the sanctuary. Volunteers work there on Tuesday mornings, cataloguing and organizing photos, maps, books, documents, memorabilia, and objects. The photo and archival files, map cases, and books will be moved to the Josiah Smith Tavern, while other items not used as often will stay in storage at St. Julia's.
Weston Historical Society is deeply grateful to St. Julia Parish, Weston and Lincoln for providing critically needed space that has allowed the society to function during the JST restoration.
Weston historian Pam Fox will lead tour of Weston's Earliest Cemeteries
Just in time for Halloween, on Sunday, October 29, Pam Fox, president of Weston Historical Society, will lead a tour of Farmers' Burial Ground and Central Cemetery, co-sponsored by the Golden Ball Tavern Museum (GBT). The event will begin with refreshments at 2 pm at the Golden Ball Tavern, followed by a walk to Farmers' and then to Central.
The first recorded burial at Farmers' was Ensign John Warren, who died in 1703, ten years before the Town of Weston was incorporated. Many of the early settlers buried here are important to the history of the town. Farmers' is also notable for its gravestones, some by noted carvers. Up until 1750, an estimated 90% of New England grave markers displayed winged skulls, emphasizing the mortality of man. These were gradually replaced by winged cherubs, symbolizing the flight of the soul and a more optimistic view of the hereafter. At the end of the 18th century, the cherub image gave way to the willow and urn motif, derived from classical antiquity, emphasizing mourning and the sadness of those left behind. The willow and urn motif was often accompanied by a change in the shape of the gravestones.
Central Cemetery, established in 1792, is very different in character. Unlike at Farmers', where most gravestones are made of slate and face east, markers at Central vary in size, materials, and orientation and include handsome marble and granite monuments. Many family plots are defined by granite curbing. The wrought iron Merriam Gate, added in 1937, provides a distinctive pedestrian entrance. When visiting Central, look for symbols, each of which has special meaning. For example, death is linked symbolically to autumn and harvest; hence the wheat sheaves, sickle, and scythe motifs. Fox will point out the meaning of common symbols such as oak leaves, ivy, wreaths, roses, lilies, and ferns. Both Farmers and Central have been carefully restored in recent years using Community Preservation Act (CPA) funds.
Informational brochures on Farmers' and Central will be available on tour day and can also be picked up at Weston Public Library and Weston Town Hall. These were written by Pam Fox, designed by Gabriella Nunes of Conventures Inc, and printed by the Weston Historical Commission for May 2023 Celebrate Weston. The brochures can also be viewed as PDFs online: Farmers' Burial Ground, Central Cemetery.
Weston Historical Society Presents
"Weston Agriculture 101: Adaptation and Change"
a lecture by Brian Donahue
Wednesday, November 1
7:00 pm Annual Meeting
7:15 pm Refreshments
7:30 pm Lecture
Weston Public Library Community Room
All are Welcome
Weston Historical Society is pleased to announce that environmental historian and Land's Sake co-founder Brian Donahue will be our guest speaker at the 2023 WHS Annual Meeting on Wednesday, November 1 at Weston Public Library. The program will begin with the annual meeting at 7 pm, followed by refreshments at 7:15 and the lecture at 7:30.
"Weston Agriculture 101: Adaptation and Change," will look at farming in Weston beginning in the late 1600s, when Watertown residents grazed their cattle here, to land divisions and the first farms, the impact of railroads, growth of market gardening, Marian Case's Hillcrest "model farm," post-World War II suburban growth, and today's Land's Sake community farm. Brian will conclude with an introduction to the New England Food Vision and the role of suburban and urban farming.
Brian is Professor Emeritus of American Environmental Studies at Brandeis University and Environmental Historian at Harvard Forest. On his retirement in 2022, he moved from Weston to Gill, Massachusetts, where he and his wife Faith own a farm that produces beef cattle, pigs, pumpkins and squash, and timber. He holds a BA, MA, and PhD from Brandeis, where he taught courses on environmental history and sustainable farming and forestry. Brian co-founded and for 12 years directed Land's Sake, Weston's much-loved community farm, and is a board member of the Thoreau Farm Trust and The Land Institute.
His 1999 book Reclaiming the Commons: Community Farms and Forests in a New England Town is a must-read for the unique way it combines Weston history, personal accounts of the joys and sorrows of farming in the suburbs, and a call for all places to protect common land and establish community farms. He is also author of the award winning 2004 book The Great Meadow: Farmers and the Land in Colonial Concord and co-author of Wildlands and Woodlands and A New England Food Vision, initiatives working towards conserving 85% of the New England landscape.
Top photo: John Martin (far left) worked the land owned by the Loring family estate. His 16-year-old son, Charles, is hoeing at right. In the rear is the Martin house at 168 Summer Street. Route 128 now cuts through this farm field. (1898 photo by Howes Brothers)
Order Now for the Holidays!
Farm Town to Suburb
Second Edition
Revised and Expanded
by Pamela W. Fox
736 pages
1075 photos, maps, and illustrations
$75.00
New 24-page chapter, 1980 to 2020, with 40 new color photos
The original 2001 book has been revised to include new discoveries, correct errors, and reflect changes. Twenty-two additional photos have been added to the original 30 chapters.
Questions? info@lovelanepress.org
$65 for Weston Historical Society members
Please use this order form (PDF) to receive the $10 discount.