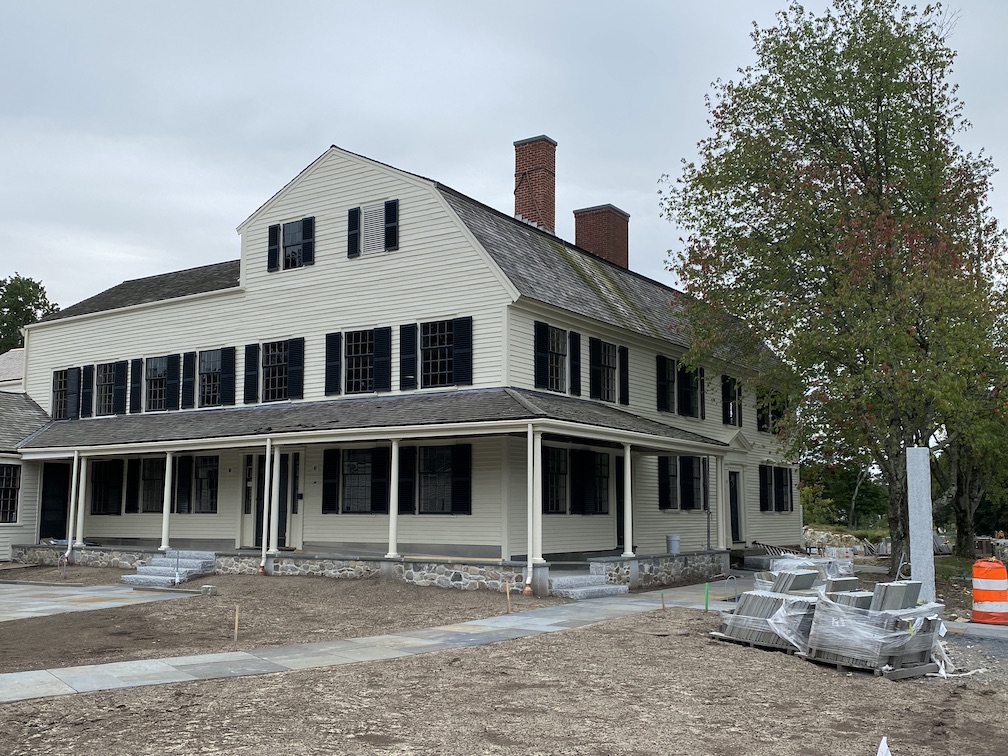 Restoration of the Josiah Smith Tavern and Barn is nearing completion. Trees have been planted and work is finishing up on the fieldstone patio and walkways in front and the small park next to St. Julia Church. Over the next few months, The Friends of the Josiah Smith Tavern will be soliciting proposals from restaurateurs interested in opening a farm-to-table restaurant in the barn and connector. The restaurateur will have to put in the kitchen and fit out the dining room before opening, a process that will take time! Weston Historical Society is working on an exhibit on the history of the tavern for the re-opening, anticipated in early 2022. WHS will move into four rooms of the main building after the exhibit is taken down in the summer of 2022.
Congratulations to The Friends of the Josiah Smith Tavern for planning and overseeing this many-year process, and to the many other volunteers who worked with the architects and construction crew on this amazing transformation.
$10 Off for Weston Historical Society Members

Revised and Expanded Edition of Farm Town to Suburb
The Weston Historical Society is sponsoring the second edition of Pam Fox's book Farm Town to Suburb: The History and Architecture of Weston, Massachusetts, 1830 – 2020. The original 2001 book has been extensively revised. A new 24-page chapter with color photographs covers the period from 1980 to 2020. The 736-page book includes 1075 images, 62 of which are new to this edition.
Copies can be ordered online at Love Lane Press or purchased in person at Florentine Frames. To receive a $10 discount, Weston Historical Society members should download and mail this order form. Questions? Email info@lovelanepress.com.
For those who attended Jane Sciacca's lecture on November 18, we are providing this link to her slides.
Weston Media Center recorded the presentation and we will post a link here when it is available.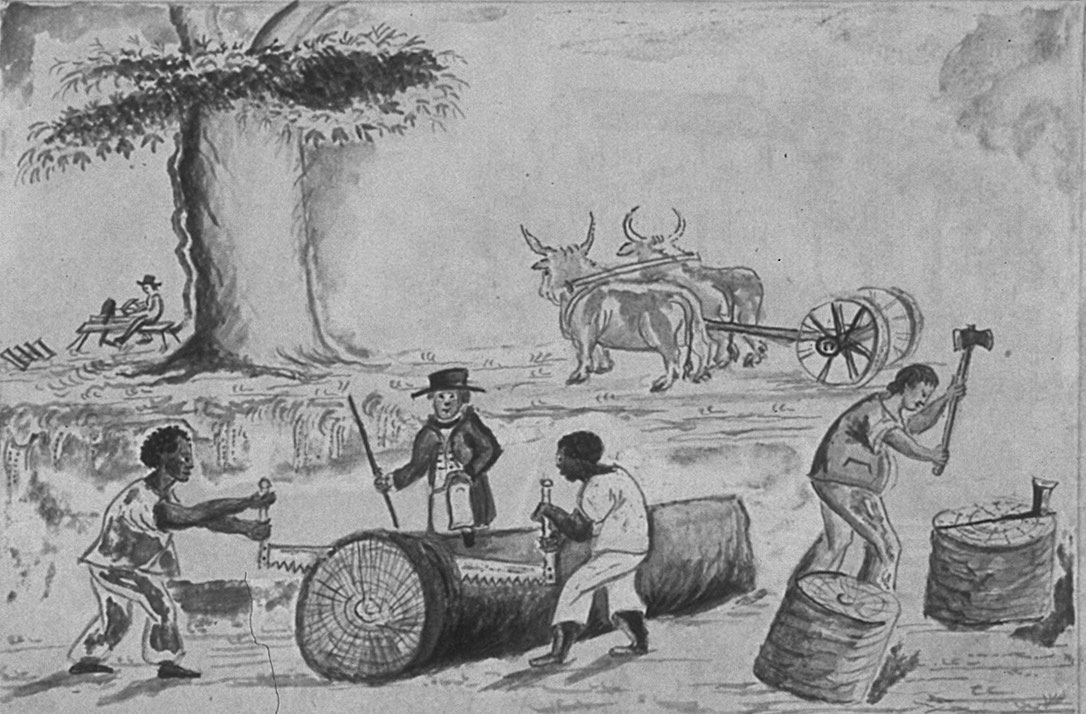 Sketch of enslaved men making wood shingles on a Virginia plantation, c. 1850. (Courtesy Abby Aldrich Rockefeller Fold Art Museum, Williamsburg, VA.)
Zoom Lecture by Jane Sciacca
Slavery in a Colonial New England Town
Thursday, November 18
7:15 pm Annual Meeting
7:30 pm Lecture
Enslaved people lived in colonial Weston. Their history will be featured in this winter's Weston Historical Society exhibit to celebrate the reopening of the Josiah Smith Tavern. Unfortunately, Weston's records are scant compared with those of surrounding towns. Jane Sciacca, a longtime Wayland resident and past president of its historical society, has extensively researched slavery and abolition in her community. Her presentation will provide important clues of how the enslaved in neighboring Weston might have lived with and worked for their owners. She will be incorporating Weston information in her talk, based on research being done by the WHS committee preparing our January 2022 exhibition.
To attend, register for the program using this Google form.
Jane Sciacca is well known in Wayland and beyond for her "distinct ability to enliven historical events and places for all to understand and enjoy." She has provided innumerable programs for the Wayland Historical Society and the National Park Service including a Spring 2021 program on Slavery in Colonial Sudbury (Wayland was originally part of Sudbury). Jane worked as an Interpretive National Park Ranger for twenty years, specializing in slavery, abolition, and 19th-century American literature. She also wrote several guidebooks and children's books for the National Park Service. In addition to serving as president, curator, and lecturer for the Wayland Historical Society, she has chaired the Wayland Historical Commission. Jane and her family have lived in Wayland for over fifty years.