Membership and Donations
Membership in the Weston Historical Society is open to all. We welcome your support and encourage you to get involved. Dues and donations may be paid by check (mail to P.O. Box 343,Weston MA 02493) or credit card through Paypal (click on Donate below). WHS is a 501(c)(3) non-profit organization and dues are tax deductible. Categories are as follows:
Individual: $35
Family: $50
Sponsor: $75
Patron: $100 or more
Life: $500 or more
Download our membership form (PDF) or contact us.
Member Benefits
The Bulletin:
Members receive two issues a year of the Weston Historical Society Bulletin, edited by Pam Fox. The Bulletin publishes historical articles on subjects of current interest, such as the Josiah Smith Tavern, Old Library, and Case Estates. On the 100th anniversary of the end of World War I, two issues focused on "Weston in World War I." We look at organizations celebrating anniversaries: for example, Land's Sake (30 years), Wightman Tennis Center (40 years), and Weston METCO (50 years). Two issues were devoted to an in-depth look at Modernism in Weston from 1930 to 1970. Articles on Weston-related subjects are welcome. PDFs of past issues of the Bulletin are available to read online.
The Bulletin would not be possible without dues and contributions from our members.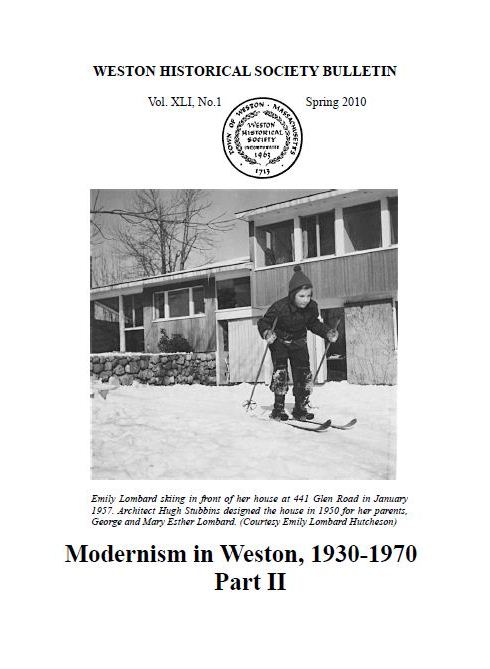 Invitations to WHS Lectures and Programs:
Members receive notices of all WHS events, including annual spring and fall lectures. Descriptions and photos of past events can be found at Recent Events and Features.
The Satisfaction of Helping:
Your dues and contributions help us acquire Weston objects and memorabilia, care for our collection of objects, books, manuscripts, and photographs, and develop outreach programs. The WHS depends on the financial support of its members.
Volunteer Opportunities
The Weston Historical Society is an all-volunteer organization. During our weekly open hours (Tuesdays from 9:15 to 12 noon), volunteers work on collections management and care. Other work times can be arranged (see Contact Us page).
Volunteers are always needed to:
Catalogue, using PastPerfect software
Organize and re-house archival materials using acid-free materials
Work with the Society's photo collection
Preserve historical materials under the direction of WHS board members
Plan and execute exhibits for display cases at the Weston Public Library and Town Hall
Write articles for the Bulletin
Help with community outreach, including interviewing long-time residents and finding new items for the collection